Reading Time:
3
min

3 Tech Trends Shaping the Future of Last Mile Logistics
W
ith growing competition from eCommerce, the pressure is increasing for traditionally "shop-in-store" industries like grocery, CPG, and pharmacies, to name a few, to modernize their operations and offer home delivery. The last mile of delivery is complicated, competitive, and becoming more crowded by the day.
To meet rising consumer expectations and be able to manage this new aspect of the business, companies are investing in new supply chain and logistics technologies. By 2022, according to a recent study from Logistics Trends & Insights and American Global Logistics, U.S. companies will spend more than $2.5 billion in disruptive logistics and supply chain technologies. As the future of technology looks bright, here are 3 tech trends that are reshaping last mile logistics.
Digitalization
In the age of eCommerce, retail operations are more complex. Manual processes cost businesses time, money, and customers that they can't afford to lose. According to a new survey from Gravity Supply Chain Solutions, only 15% of U.S. retail businesses have completed supply chain digitization. While cost was perceived to be the main barrier to digitization, not being digitized will have a greater impact in the long run.
Retailers that fully digitized their supply chains saw significant improvements in operational efficiency, visibility, and customer loyalty. Namely, 76% of them believe their businesses have enough data and insight to make better decisions about their supply chains. Over 55% of respondents said that order tracking across all touchpoints improved the customer experience, and 53% said personalization of products increased.
Advanced Systems
Smart algorithms can deliver benefits to supply chain and logistics operations, including improved forecasting, efficient resource allocation, and faster deliveries. Implementing advanced technology can help logistics companies analyze their data, manage their daily operations, and recognize patterns. It can also be used to provide recommendations on how to respond to potential disruptions or opportunities. Advanced systems give users the ability to streamline and automate many supply chain and logistics functions. Using advanced systems can help companies reduce shipping times and costs, and improve customer service.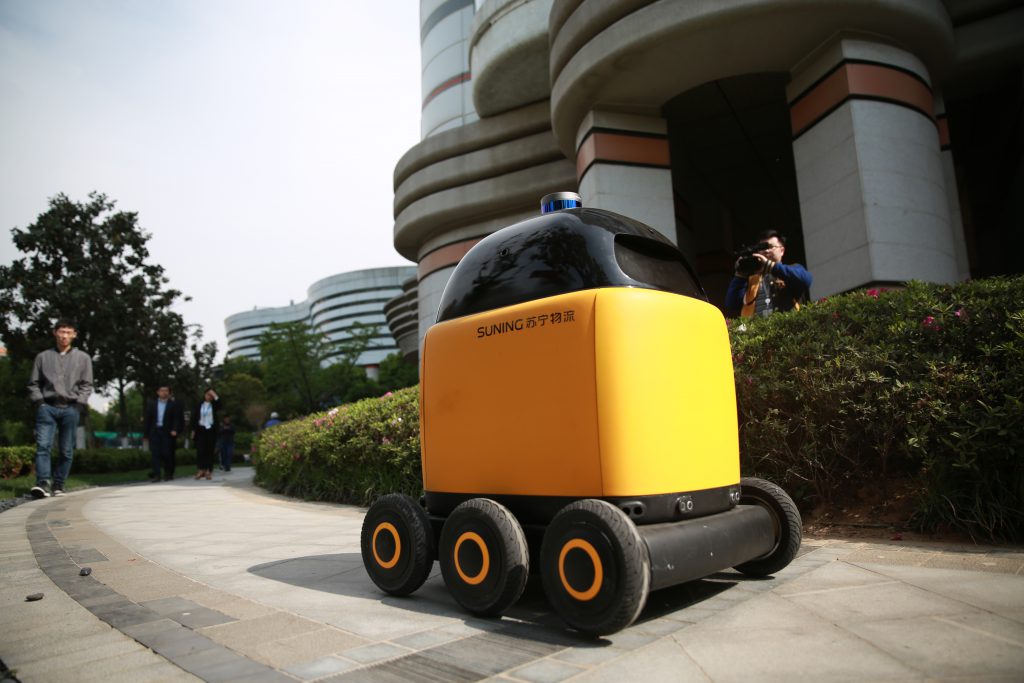 Autonomous Delivery
FedEx recently announced plans to test an autonomous delivery device with retailers this summer. The FedEx SameDay bot will enable retailers to accept orders from nearby customers and deliver them the same day. Autonomous delivery vehicles combined with a logistics management solution can help companies achieve seamless mobility, maximize vehicle capacity, and reduce idle times. Retailers including Amazon, Walmart, and Stop & Shop also recently announced autonomous delivery pilots. While autonomous delivery will not be widespread for quite some time, this is an interesting aspect to keep an eye on during these early phases of testing and development.
To Summarize
Businesses that continue to use manual processes will struggle to meet customer delivery expectations and be unprepared to meet increasingly complex fulfillment requirements. In the last-mile delivery landscape, a technology-enabled supply chain and logistics operation is quickly becoming necessary for survival. The ability to leverage technology is a key competitive advantage for companies to stay relevant in the modern digital world. Technology improves efficiency, reduces costs, and helps companies deliver a superior customer experience.
To learn more about Bringoz and how our logistics solution can help your deliveries run more efficiently, contact info@bringoz.com
Take full control over your logistics operations.