Next Generation Delivery Platform
Bringoz is a SaaS-based logistics platform, providing an end-to-end, scalable delivery infrastructure.
Planning, Scheduling & Optimization
Bringoz's technology enables real-time, automated delivery capabilities. Our planning, scheduling and route optimization features help manage multiple delivery needs such as same/next day, on-demand, last mile, first mile, distribution and returns. 
Automate your routes planning based on delivery demands and constraints

Algo-based resource matching –

Efficient real-time allocation of tasks & routes to the right vehicles and drivers 

Constraint-based automated dispatching and demand consolidation

Real-time adjustments and rerouting to handle unexpected demand and peak times
The Bringoz interface allows for full visibility and control over your entire delivery operation with exceptional UX. Provide your support staff with all the information they need to track, monitor and manage your fleet in real-time.
Track real-time pickups, deliveries and routes with predictive ETA to assure on-time performance

Manage unexpected demand and gain immediate insights into your delivery operations to reduce risks 

Customizable Proof-of-Delivery with location and time stamp (Signature, photo, ID and barcode scanning)

Manage your billing with real-time quotes, electronic payments and reports
Use Bringoz to connect with your customers throughout the delivery process, as you increase engagement and loyalty. Build the brand that makes you stand out from the crowd and create a personalized real-time experience based on transparency and accessibility. 
Coordinate deliveries efficiently with flexible scheduling options (on-demand or scheduled time windows)

Let your customers decide when and where to receive deliveries. Allow them to modify orders in real-time.

Keep customers updated throughout the delivery process with automatic or real-time updates 

Stay informed and gain insights into customer satisfaction with surveys, ratings, and driver scoring.

Support your customers from one access point with real-time information received from directly from the field
Create Your Own Elastic Fleet
Reduce operational expenses and increase efficiency by implementing Bringoz' robust, modular, and scalable delivery platform. Improve your profitability by maximizing your resources.
Use in-house drivers, crowdsourced, independent contractors, 3PLs, or a combination of resources to enable flexible, real-time vehicle allocation.

Streamline the entire driver recruitment process including screening, compliance, and training, to build a robust logistics operation.

Define your own marketplace with our sophisticated scoring system. Use the market so your drivers can easily pull predefined routes, or use the offering system to offer individual deliveries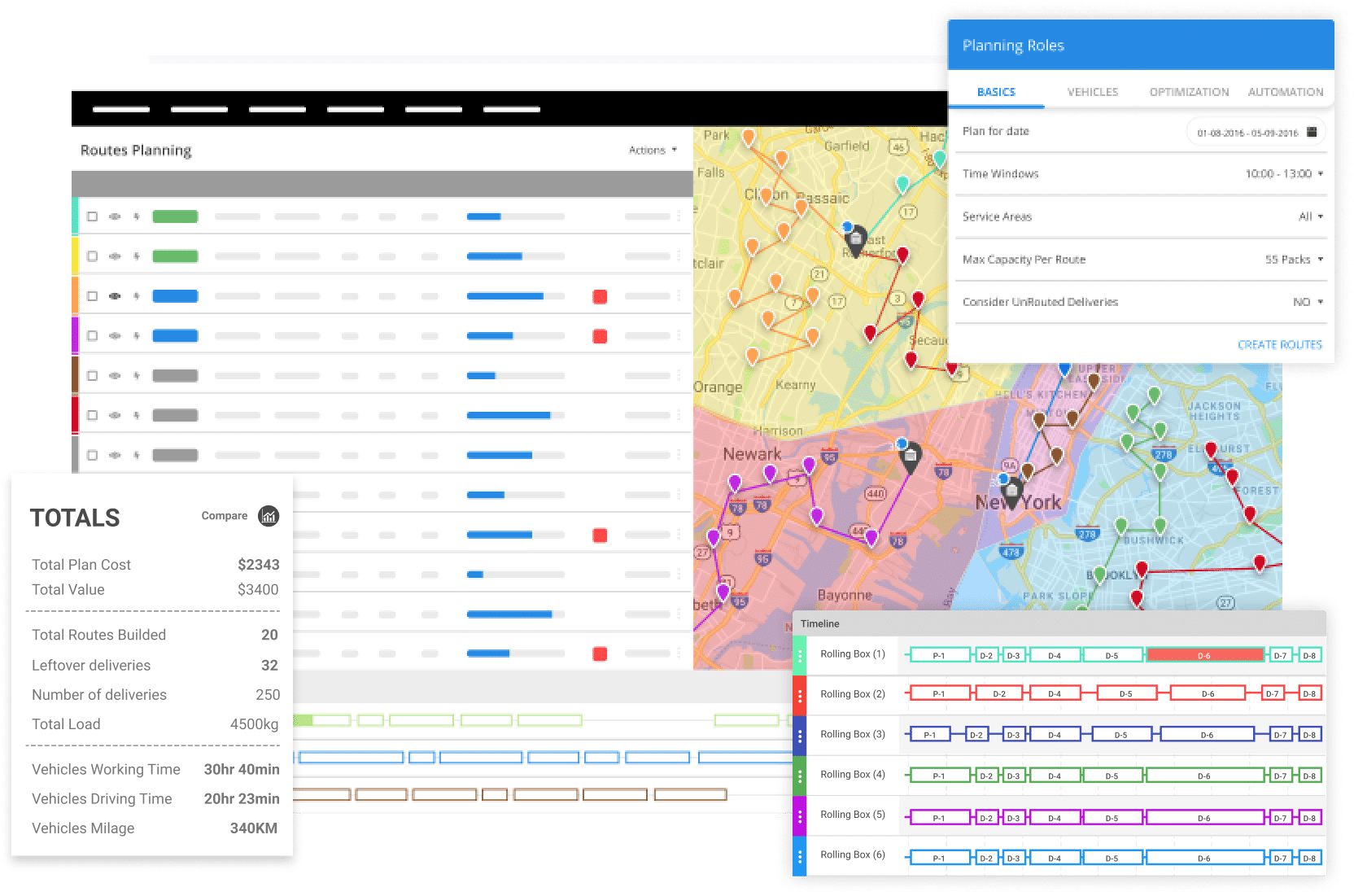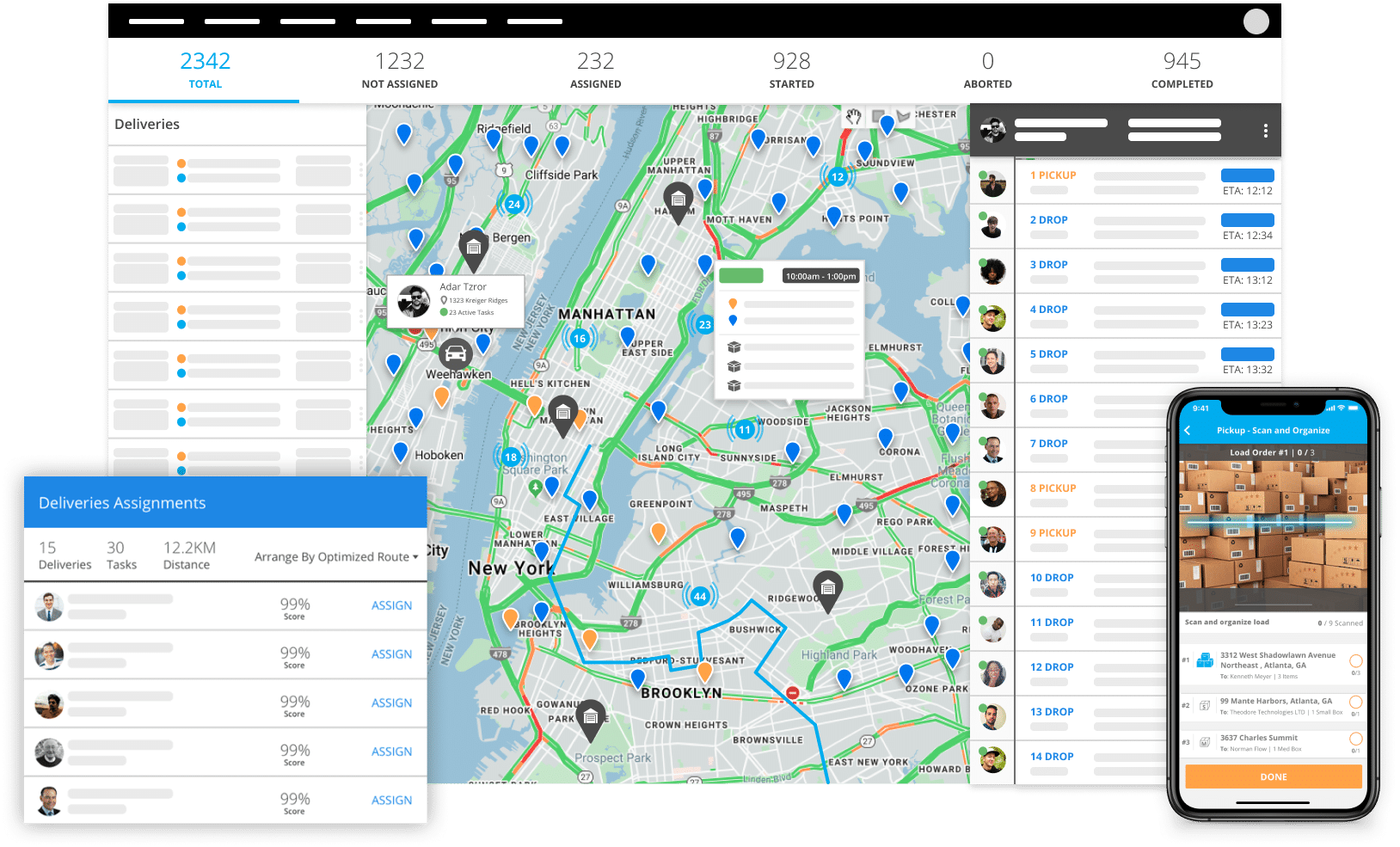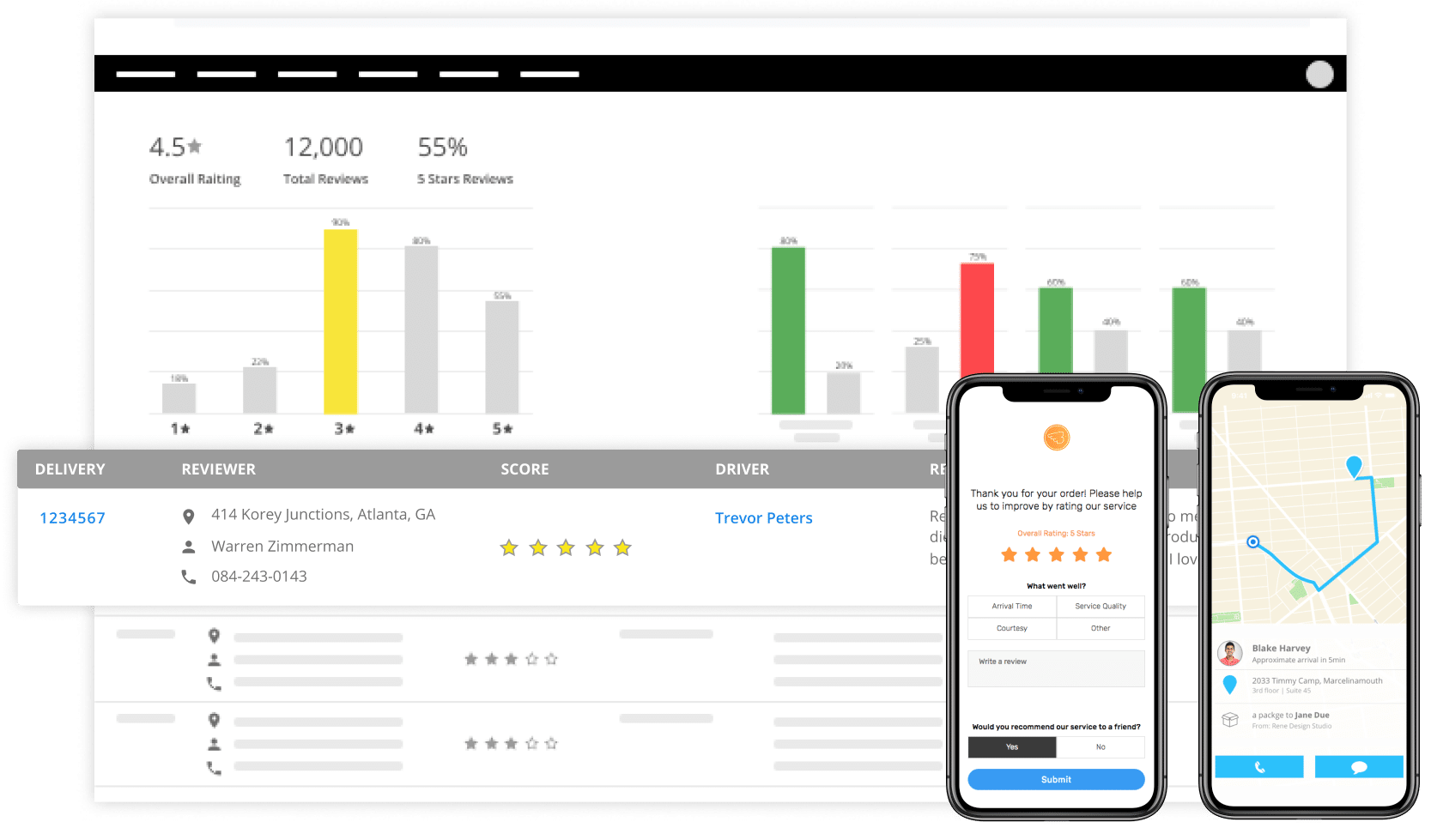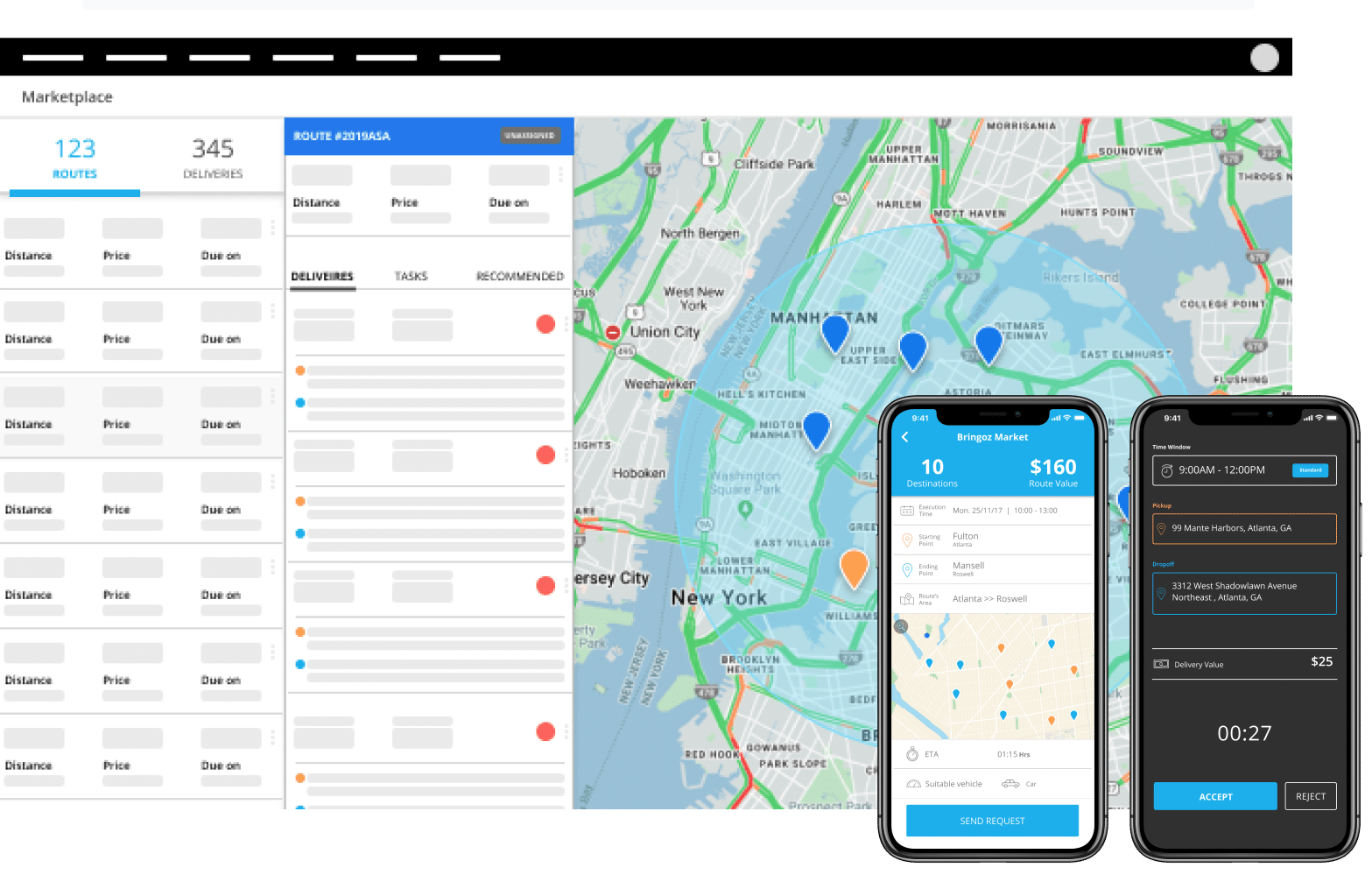 "Our customers delivery windows have narrowed from four to two hours, a 50% improvement in service levels..."
E-commerce Manager, National Grocery Chain
Bringoz is a SaaS-based delivery logistics platform that provides shippers and carriers with end-to-end, scalable delivery infrastructure, enabling them to compete in today's demanding landscape.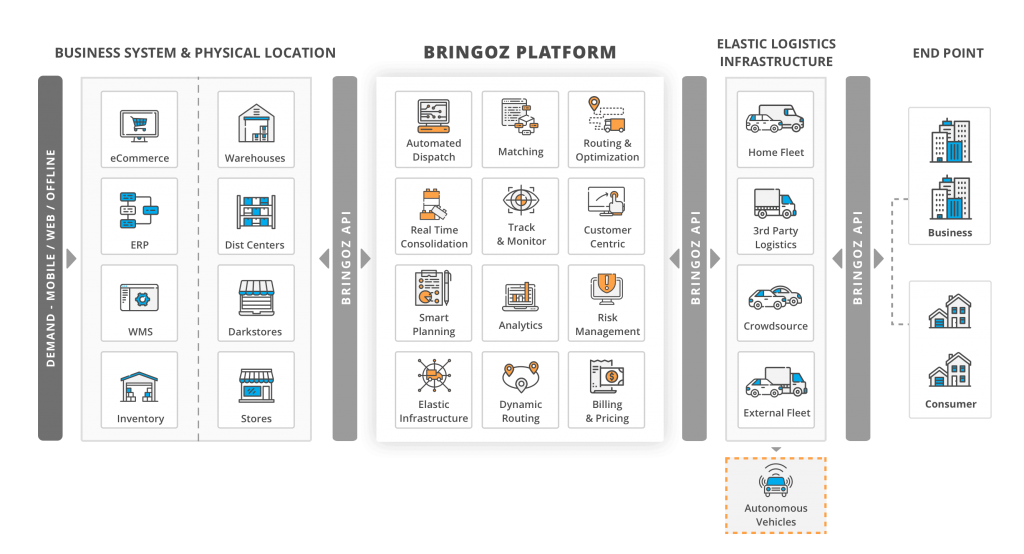 Reduce operational expenses and increase efficiency throughout a robust and scalable delivery platform.
Clear ROI – maximize your resources, lower your costs and improve your profitability.
Providing the technology to build a flexible delivery infrastructure, utilizing existing assets and connecting with 3rd party logistics providers to create an accessible network.
Enable customer-centric, holistic services based on transparency and accessibility to increase engagement and loyalty.
Integrate our technology with your existing systems to build a comprehensive end-to-end process.
Build the Brand that makes you stand out from the rest, create a personalized real-time experience for your customers.
Get Amazon Capabilities for Less than $1 per Order
Bringoz Solves Stakeholder Challenges
The biggest challenge faced by shippers and carriers is to improve user experience, speed, and visibility while lowering delivery cost.
Adopting a technology solution that offers real-time visibility will increase operational efficiency and customer satisfaction.
Shipping costs are rising, utilization of resources will allow for cost reeducation and control.
As logistics become more complex, the process must be automated to ensure all orders arrive safely and efficiently.
Shipper, carries and retailers must provide a superior customer experience to differentiate themselves in the competitive landscape.
Businesses and consumers want their deliveries faster, wherever and whenever they need it.
E-commerce is great, until it hits the dust of logistics.