Reading Time:
4
min

3 Things Supermarkets Need to Succeed in an Omnichannel World
T
oday's grocery retailers have their work cut out for them as grocery shopping becomes more of an omnichannel experience. Online food and beverage sales are expected to reach $143 billion by 2025, according to the FMI and Nielsen. As online grocery sales increase faster than originally anticipated and the industry becomes increasingly competitive, grocers are looking to new strategies and tools to help them adapt and succeed.
Customers' increased use of online shopping has forced brick and mortar retailers to step up and enhance the grocery shopping experience with new services and features. Here's a look at some tips and technologies providing grocery retailers with new operational capabilities that deliver needed productivity, efficiency, and speed.
Improve Seamless Shopping
Grocers are facing challenges when it comes to providing a seamless, omnichannel shopping experience to customers. Customers want to browse and shop in stores with the same ease that they browse and shop from websites and on their phones. Expand your presence across all channels to increase sales and meet customer expectations. Do you already have a successful website? Grow your mobile presence to engage and provide more value to your customers. 
Grocers including Kroger, Target, Walmart, and H-E-B have all created mobile apps to make grocery shopping easier. Shoppers can order groceries, clip coupons, and create shopping lists directly from their phones. Recognize that shoppers use online and mobile tools even when they intend to shop in-store. Make sure shoppers can easily find relevant product information on in-store and out of stock items and their location. Make the transition from online to in-store and vice-versa a frictionless experience for customers.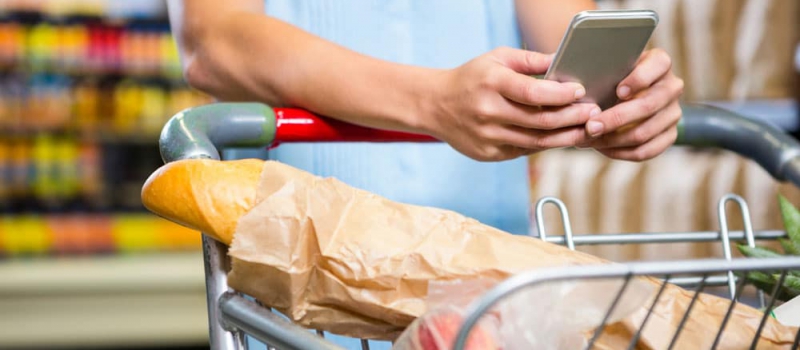 Personalize the Shopping Experience
Build strong connections with your customers by creating a personalized shopping experience. Loyalty programs offer a great way for delivering personalization, 93% of shoppers belong to their primary grocer's loyalty program, and 57% want the service to offer product recommendations, according to the Personalization in Digital Food Retail – Shoppers Expect More study by IDC Retail Insights and Precima. Test technologies that make it possible to deliver personalized promotions and recommendations to consumers.
Technology solutions use machine learning to help you tap into shopper behavior and data and create a more meaningful omnichannel shopping experience. For example, two regional grocery chains, Brookshire Grocery Co. and Weis Markets, recently started using personalization intelligence software enabling them to generate automatic personalized catalogs and search results tailored to each individual shopper. Online shopping data combined with insights from in-store purchase history provides the retailers with the ability to offer a unified grocery shopping experience tailored to each customer. 
Make Home Delivery a Priority
Online grocery is growing, while delivery windows are shrinking. If you don't already provide grocery delivery, now is the time to start. As retailers like Amazon and Walmart continue expanding their grocery fulfillment options across the country, traditional grocers face pressure to expand their services as well. Managing deliveries manually is time-consuming and inefficient. However, starting and managing a delivery service is easier with the right technology in place.
Use a logistics management system to manage your deliveries. Unlike manual processes, cloud-based software provides features including automated route planning, route optimization, real-time tracking, and insights to make running a delivery operation an easy and efficient process. Don't lose sight of your customers and choose a technology solution that will provide customer service features including flexible scheduling and real-time updates, giving your customers full visibility into the delivery process.
Consumer expectations are evolving requiring grocery retailers to rethink the way they operate. Leading grocery retailers are already adapting by using new technologies in order to meet the changing needs of today's consumers. Keep consumers in mind by investing in new technology and services. Offering them a seamless, personalized, and enjoyable omnichannel shopping experience will give you the competitive edge to succeed as the grocery industry continues to evolve.
To learn more about Bringoz and how we can help fulfill your logistics needs, contact info@bringoz.com.
Take full control over your logistics operations.