Reading Time:
5
min
The Coronavirus' Impact on Retail: What You Need to Know
T
he coronavirus outbreak is continuing to spread across the globe. According to the World Health Organization, coronaviruses are a family of viruses that can lead to a variety of respiratory illnesses. The virus that's currently jeopardizing public health (COVID-19) originated in mainland China. It was first transmitted from animals to humans and has since spread worldwide through close contact with infected people. The disease is said to be ten times more lethal than the seasonal flu. With production of a usable vaccine likely 12 to 18 months away, everything from sports, schools, and conferences have been put on hold in an effort to keep the disease from spreading.
The coronavirus has wide-reaching effects on major industries including financial markets, retail, and delivery services. Here are the latest updates on its impact on retail, as shopping habits shift while the disease continues to spread around the world.
Physical Retail Faces Challenges
As more cases of the disease have been reported worldwide, problems for the retail industry have emerged. Since the coronavirus has spread, manufacturers in over a dozen industries are struggling to manage the growing impact on their supply chains, as factories close and workers stay home, reducing both production and shipping of goods. 
Consumer habits are changing, as precautionary shopping is underway with many stores selling out of hand sanitizer and face masks. Meanwhile, Costco saw an increase in consumer demand with members turning to the retailer for a variety of shelf-stable items including dry grocery items, cleaning supplies, water, paper goods, and disinfectants. With many products sold out in stores and more people staying home, retailers and restaurants are seeing less foot traffic. With such uncertainty, people are understandably hesitant about gathering in crowded public spaces such as malls or supermarkets, with six in ten shoppers planning to avoid such areas if the outbreak worsens.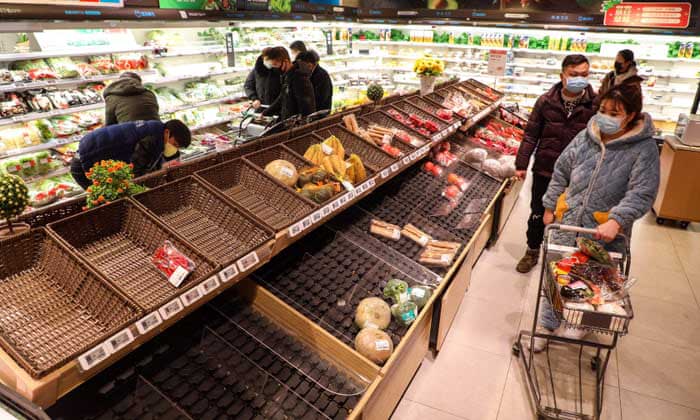 Online and Mobile Shopping Gets a Boost
The coronavirus epidemic has presented unexpected opportunities for online retailers as digital sales rise. For example, online sales for Sun Art Retail Group, China's largest hypermarket operator by market share, almost quadrupled during the Lunar New Year holiday from the same period last year. Nearly 80% of the 486 hypermarkets run by Sun Art were shut at the height of the epidemic on February 4, however their revenue remained steady, as residents switched to ordering fresh food and groceries deliveries online, according to chief executive Peter Huang.
Products such as fresh food that were previously predominantly sold offline have seen a huge rise in online orders. According to French retailer Carrefour, vegetable deliveries increased by 600% year-over-year during the Lunar New Year period. Chinese online retailer JD.com reported that its online grocery sales grew 215% year-over-year to 15,000 tons during a 10-day period between late January and early February. Food and grocery delivery apps saw a huge surge since the disease has spread as well, according to analytics site Sensor Tower. Fresh Hema, a grocery delivery app owned by Chinese tech giant Alibaba, saw 100,000 downloads on February 8, more than triple its average daily install figure of 29,000.
Delivery Demands Put Pressure on Retailers
With fears about the spread of COVID-19 across the U.S., worried consumers are turning to online delivery stateside as well. The increase in online shopping has overwhelmed delivery services that have been forced to adapt quickly to keep up with consumer demand as delivery slots sell out faster than usual. Retailers that don't offer online ordering and delivery, or only offer limited options, will experience sales losses as consumers choose competitors who offer eCommerce options and delivery, like Amazon and Walmart. Retailers who have their own fulfillment centers stocked with packaged foods, like pasta, beans and rice, will benefit as local store inventory plummets.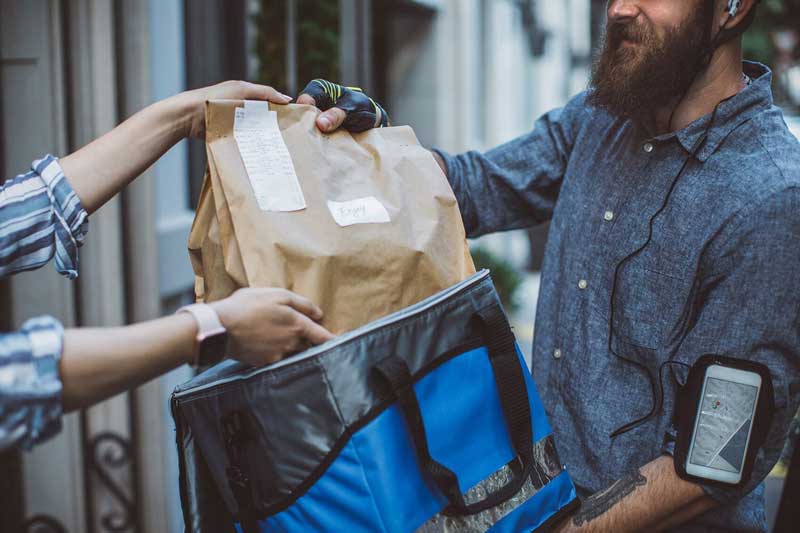 New Delivery Models Gain Popularity
Concerns about food delivery due to possible food contamination have led to recent innovation in contactless pickup and delivery services. In China, companies like McDonald's, KFC, Pizza Hut, and Starbucks are increasing delivery services that limit human-to-human contact, and orders are packaged to keep them free of contamination. According to a spokesperson from Meituan, a major delivery provider in China, over 80% of all orders made during the two-week period between January 26 and February 8 requested a contactless delivery service. While, 66% of all customers selected the service option for every order that they placed in that period.
Delivery providers in the U.S. are following suit. Facing pressure from workers and increased scrutiny from lawmakers, gig economy companies from Uber to Doordash have been rolling out new policies. Uber and Lyft are planning to compensate drivers affected by the coronavirus for up to 14 days. Meanwhile, DoorDash, is letting customers leave in-app instructions if they prefer orders left at the door. While, Postmates and Instacart have launched contactless food delivery. Instacart recently launched a "Leave at My Door Delivery" option in which customers receive a real-time photo of their groceries on their doorstep when they arrive. Consumer adoption of the new feature has been so successful that, based on the increased demand, Instacart has made it available to all Instacart customers.
As the situation continues to evolve, some questions remain. Will these new shopping trends create permanent consumer behavior changes or will everything return to normal once the coronavirus outbreak is over? Only time will tell. However, as more people stay home and shop online, retailers that up their delivery game and offer online shopping and delivery services will be able to sustain themselves in times like these and provide their customers with a flexible and convenient shopping experience when they need it most.
For more information on Bringoz and how we can help you fulfill your delivery needs, contact info@bringoz.com.
Take full control over your logistics operations.