Reading Time:
4
min
How Businesses Are Pivoting in Response to the Coronavirus
T
he coronavirus pandemic is causing disruption around the world. Efforts to contain the virus, including social distancing and stay-at-home orders, have shut down or limited many business operations. Business owners and employees face job losses and economic impact as customer shopping is limited to essential needs. While customers are staying home, businesses are stepping up by using their resources to help. Here is a look at how some businesses are pivoting their business models to provide much needed supplies and support during the coronavirus.
Companies Produce Supplies to Help Relieve Nationwide Shortages
Healthcare workers around the world face unprecedented shortages of protective equipment and supplies needed to combat the coronavirus pandemic including ventilators, gowns, face masks, and hand sanitizer. Several companies are donating or making equipment to meet the critical demand. After shutting down car production, Ford and General Motors have redeployed their factories and workers to build ventilators. Ford aims to produce 1,500 ventilators by the end of the month. General Motors will start producing 10,000 units per month by as early as mid-May. 
Noting nationwide shortages, retailers are also pitching in. For example, clothing brands such as Gap and Eddie Bauer are shifting production lines from making apparel to manufacturing face masks and gowns. The True Value Company, one of the world's leading hardlines wholesalers with over 4,500 independent hardware retail stores in the U.S. and internationally, registered with the U.S. Food and Drug Administration as an over-the-counter drug manufacturer to produce hand sanitizer. The company is also manufacturing essential cleaning and sanitizing products to meet customer demand as well as retailers' demand to help keep their stores a safe shopping environment for customers.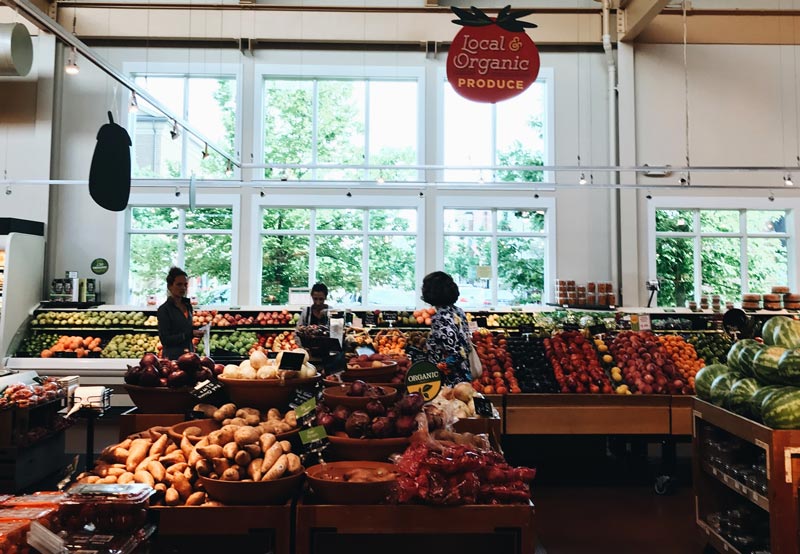 Food Distributors Lend a Hand to Grocery Retailers
The foodservice business has come to a standstill, with most schools, restaurants and other major customers closed. Many food distributors have transitioned to working with grocers to keep supermarket shelves stocked. For example, foodservice distributor US Foods formed about 20 retail distribution partnerships with national grocery store chains, wholesale grocers and consumer packaged goods brands, temporarily reassigning over 700 US Foods distribution associates to warehouse roles such as selectors who choose products for shipping and truck drivers who deliver products directly to a retailer's distribution center or retail location. Through these partnerships, distributors are creating new opportunities for their employees while helping maintain the nation's food supply.
Tech Companies Help Retailers Fast-Track Digital Transformation
As consumers continue to practice social distancing and avoid large crowds, online shopping and deliveries have rapidly increased. Retailers are partnering with technology companies and expanding their digital and delivery capabilities to help them manage growing consumer demands. For example, the drugstore retailer Walgreens is expanding its partnership with on-demand delivery service Postmates to offer delivery from over 7,000 stores nationwide. Consumers can order health and wellness items and other household essentials and convenience products. Retailers are taking advantage of delivery management platforms free of charge. Bringoz is offering retailers free home delivery service support, read more about it here.
For brick-and-mortar retailers a little late to the eCommerce game, there's help for you as well. EBay recently announced the launch of "Up & Running," an accelerator program aimed at helping retailers without an eCommerce presence transition to selling online. As part of the program, eBay is offering new businesses a free basic eBay store for three months and waiving selling fees for up to 500 sold items. New eBay sellers will also receive valuable resources including merchandising and marketing tools, discounted shipping supplies and customization features so businesses can build their digital brands.
In response to increasing customer demands and uncertainties surrounding the coronavirus outbreak, businesses are making significant changes in what they produce and how they operate. Manufacturers, distributors, and retailers are transforming their companies to help meet customer demands and mitigate the impact of COVID-19. Taking their companies in new, innovative directions will help them forge new partnerships and opportunities that could last long after the coronavirus subsides. 
For more information about Bringoz and how we can help you fulfill your delivery needs, contact info@bringoz.com.
Take full control over your logistics operations.