Reading Time:
4
min
How to Build a Resilient Supply Chain
A
lthough this is an unprecedented time, the COVID-19 crisis is shedding new light on supply chains. Managing supply chains in the midst of the coronavirus outbreak has proven to be one of the more challenging aspects of the pandemic. Disruptions in one part of the chain can affect the entire chain and lead to costly delays. According to a recent member survey conducted by the Institute for Supply Chain Management, 95% of respondents indicated their companies would see some type of coronavirus-related disruptions. The key to managing these and future disruptions lies in leveraging technology to build a resilient supply chain.
As businesses transition to a new normal, there will likely be an acceleration of digitization to allow supply chains to emerge stronger. Automating manual, time-intensive tasks allows businesses to operate more efficiently and employees to focus on work that is more meaningful to them. Emerging technologies like automation, AI, and advanced analytics allow businesses to identify patterns in supply and demand and better predict and plan for the future. Digital platforms are growing the flexibility and capabilities for everyone in the supply chain process to maintain business continuity, anticipate disruptions, and manage challenges more efficiently. Here are some tools leveraging technology will provide to make your supply chain more resilient.
Agility
Dealing with unpredictable environments and rising consumer demands requires the agility to react to changes quickly. To do this, traditional, linear supply chains are beginning to transform into more dynamic, digital supply networks, where once-siloed data sources are becoming more accessible in a centralized platform that provides real-time insights enabling faster and better decision making. Flexible logistics networks using in-house, independent and/or crowdsourced drivers enable flexible real-time vehicle and resource allocation. Digital tools enable flexibility and prevent overreliance on a single source of supply ensuring that you can respond quickly to unexpected demands or delays.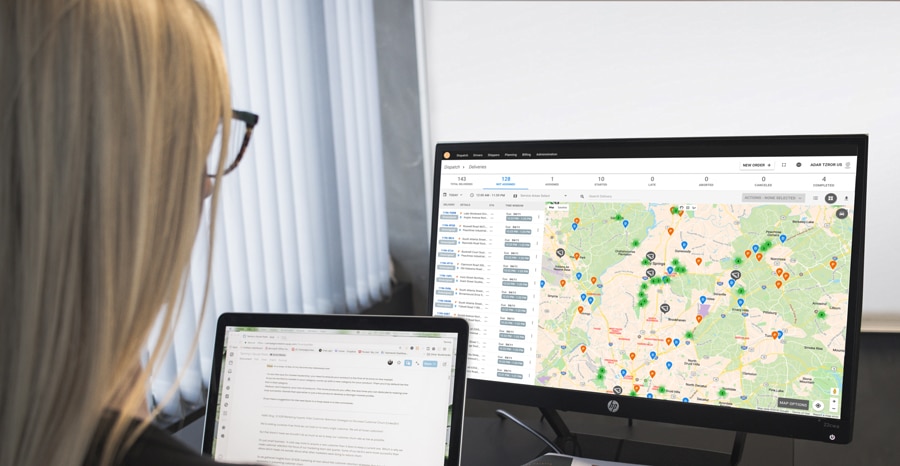 Collaboration
Digital platforms that connect multiple parties and business processes allow your company to easily collaborate and act as a team. Effective collaboration requires that you share valuable information with your supply chain partners in real-time. Integrate teams around digital workflows, helping to realign the business so it's able to respond quickly to rapidly changing demands and make more informed decisions. Look at demand patterns across your supply chain. This enables better collaboration with logistics partners to better understand how to manage fulfillment constraints while delivering packages to customers, when they need them most.
Risk Management
Manage risks with advanced technologies like artificial intelligence (AI) and advanced algorithms that allow for more careful planning, analysis, and less reactive decision-making. These digital tools will help you build a resilient supply chain by providing supply chain planning and optimization, including demand forecasting and predictive analytics. Analytics, AI, and visualization tools allow you to model and build flexibility into supply chains. Scenario planning is a key strength of supply chain technologies. Once a continuous real-time planning and execution workflow is configured across your entire business, you will be able to manage inventory effectively, make deliveries faster, and be better to quickly handle any issues in the future.

Visibility
Leveraging technology is key to reach end-to-end supply chain visibility and maximize productivity. Visibility through digitization makes it possible for key stakeholders across your supply chain to effectively analyze, manage, and monitor the entire network. A single view of customer orders, inventory and deliveries is critical to act with speed and confidence in making decisions. Investing in visibility or control tower solutions will help you better navigate dynamic situations and guide your entire organization to understand and respond to supply chain issues in a timely manner.
The coronavirus pandemic continues to impact different industries. Now is the time to embrace new solutions to proactively resolve supply chain issues and optimize logistics for maximum efficiency and performance. Digital supply chain and logistics solutions can help you build a resilient supply chain, better adapt to challenges, and meet customer demands. Smarter supply chains that leverage the power of AI and other emerging technologies can help companies improve supply chain visibility, reduce risks, improve the speed and cost-effectiveness of their supply chain, and respond better to disruptions in the future.
For more information on Bringoz and how our logistics management solution can make your supply chain more resilient, contact info@bringoz.com.
Take full control over your logistics operations.