Reading Time:
4
min
Post-Coronavirus: Refocus on the Last Mile
I
n light of the coronavirus, customer shopping habits are shifting and eCommerce sales are increasing every day leading more retailers to refocus on last-mile delivery. As brick-and-mortar supermarkets reduce their operating hours, limit the number of shoppers in their stores, and implement one-way aisles to maintain social distancing, customers are finding it more convenient to shop for groceries online. 
In the last 30 days, online grocery sales in the U.S. grew 37% to $5.3 billion compared to March 2020's record-setting total of $4 billion, according to the latest Brick Meets Click/Symphony RetailAI online grocery shopping survey. Forty-seven percent of households surveyed indicated a high level of concern related to catching the coronavirus. Major companies around the world have struggled to meet the increased eCommerce demand as fears surrounding the coronavirus persist. As a result, companies are refocusing on improving last-mile delivery services. 
Delivery Companies Adapt to Increased Demand
The gig economy is one of the major beneficiaries of the spike in online grocery shopping. A month ago, Instacart announced plans to hire 300,000 new full-service shoppers and met that goal weeks later, expanding its shopper community to over 500,000 people. Instacart plans to add 250,000 more full-service shoppers over the next two months to help meet increasing demand for grocery delivery and return to one-hour and same-day delivery. 
With order volume growing by over 500% year-over-year the week of April 13 and average customer basket sizes increasing by 35%, the company plans to bring on more shoppers across North America with a focus on scaling in key areas with the most customer demand. To help fill these new jobs, Instacart is partnering with over two dozen companies across a range of industries to support their employees who have been directly affected by the economic downturn due to the coronavirus.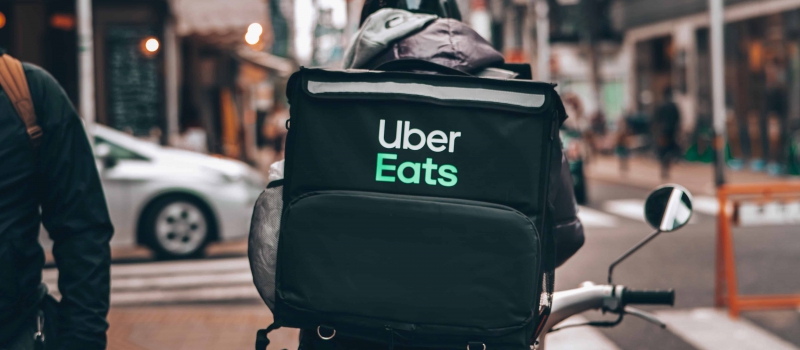 More Deliveries, Less Contact
As stores start to reopen, they will rely on delivery services more, in addition to new safety measures to ensure social distancing. For example, Starbucks plans to reopen over 90% of its U.S. locations by June 1, with reopenings starting next week. However, most locations will not allow customers inside. Starbucks is emphasizing mobile orders, with customers picking up their orders at the door or by drive-thru. More locations will also deliver orders through Uber Eats. 7-Eleven is expanding its on-demand delivery capabilities. The convenience store retailer is adding services from Postmates, DoorDash, and Google, as well as regional service Favor Delivery in Texas, to its existing proprietary 7Now on-demand delivery app.
Businesses and customers want more contactless delivery options, which is unlikely to disappear in a post-coronavirus world. Companies and delivery services will continue to offer contactless options, to help calm consumers' nerves and fears. Delivery services are shifting towards grocery stores and modifying their operations to provide last-mile delivery solutions. For example, Uber recently launched two new contactless same-day delivery services. Uber Direct builds upon UberEats' recent expansion into grocery and convenience store delivery. While, Uber Connect allows users in some cities to send care packages to family members and friends.
Autonomous Delivery Gets a Push
The coronavirus outbreak has given automated delivery a new sense of urgency. Support for drones in eCommerce is increasing. A growing list of companies, including Amazon, UPS, Alphabet, Domino's Pizza, and Walmart, are already testing drones to help cut last-mile delivery costs for products like retail items, medicines, and fast food. Regulations, safety concerns, and community opposition have limited drone use in the past. However, delivery drones and robots can handle high volumes of work and aren't susceptible to illnesses. This could force the relaxation of rules and regulations in the future.
As eCommerce has grown year-over-year, solving last-mile delivery challenges and offering a wide range of options for customers has become a competitive advantage for retailers. Increasing demands of eCommerce and growing safety concerns in a post-coronavirus world will require new solutions. Businesses will likely adopt certain safety and social-distancing measures as they refocus on the last mile. The last mile of delivery will become more efficient and health-conscious as it adapts to this new normal.
For more information about Bringoz and how we can help you fulfill your last-mile delivery needs, contact info@bringoz.com.
Take full control over your logistics operations.