Reading Time:
4
min
Top 3 Benefits of Real-Time Visibility
W
ith more companies adapting to increased delivery demand, digital tools are making their jobs a lot easier. Customers have come to expect more visibility in their delivery service experience with 43% of consumers admitting to checking delivery tracking more often now than before the pandemic, according to a Pitney Bowes consumer study. The cost of poor tracking has a big impact on customer loyalty as 53% of customers said a bad tracking experience would make them unlikely to shop with a retailer again.
As a result, real-time visibility has gone from a nice-to-have feature to a necessity. To accurately fulfill orders across an increasing range of industries and delivery options, companies need to have accuracy on their driver locations. This data will help them improve delivery planning, fulfill orders quickly, and better resolve delivery issues. 
As real-time visibility becomes increasingly important to shippers and customers, it is beneficial to understand the cost savings and operational efficiencies that can be attained by its implementation. Here's a look at the top three benefits of real-time visibility.
Informed Decision-Making
With real-time visibility, businesses can make better and faster business decisions. A single delivery dashboard provides visibility to what has happened and what is happening. The data can help businesses see patterns, and discover useful insights into how their delivery operations run, as well as ways to improve their delivery service. 
Better delivery predictability and insights derived from data analytics supports more efficient and more cost-effective operations as well as more informed decision-making capabilities. A delivery management platform unifies all data into a single system, enabling teams to proactively assess risk and optimize their delivery resources all while saving time as decisions are made based on real-time information.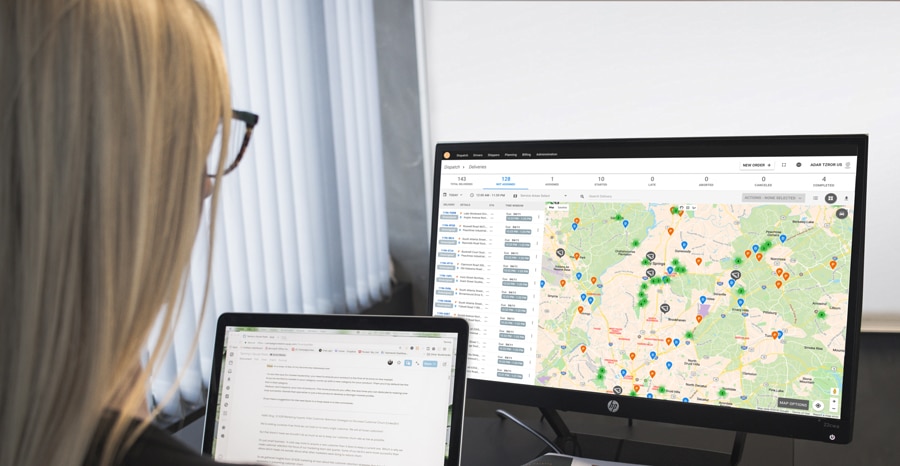 Agile Delivery Operations
Real-time visibility gives businesses the digital capabilities to quickly adapt to delays or disruptions. Identifying and resolving delivery issues in real time is essential to reducing inefficiencies and navigating potential obstacles without sacrificing quality of service. This is invaluable for all the different stakeholders involved. Dispatchers and managers receive real-time information that helps them better manage drivers and maintain a seamless delivery operation.
The entire delivery network can move faster and more effectively as all real-time information is updated directly to the delivery management platform, eliminating the need for manual intervention of drivers, dispatchers, or managers. If a delivery is delayed or a driver is running late, dispatchers can quickly update delivery routes. This allows them to seamlessly adapt their daily delivery operations to manage real-time constraints, mitigate risk, and unexpected demand.
Better Customer Experience
Real-time visibility is also used to provide customers with more information and control over the delivery experience. This includes real-time tracking capabilities, delivery notifications, and instant communication with the delivery driver. Many shippers and their customers spend countless hours calling and emailing to find out the status of a delivery. Customers must call shippers for updates that require the shipper to call their carriers and drivers to get real-time status updates. Not only is this process very inefficient, it is also very costly.
The ability to reduce manual communication with automated real-time visibility can lead to significant cost savings, more productive workforce, and higher levels of customer satisfaction.  Having 100% visibility into delivery status allows the shipper to easily support customer requests and answer questions with real-time information received from the operations, deliveries, and drivers. Real-time alerts enable shippers to be proactive when disruptions occur, and keep the customer updated throughout the entire delivery process.
Real-time visibility is a crucial tool to have in your delivery management toolbox. It allows shippers to make better decisions, lower costs and increase customer satisfaction. 
For more information about how our delivery management solution can help you attain real-time visibility and manage your delivery operations more efficiently, please contact info@bringoz.com. 
Take full control over your logistics operations.